Commercial and technical due diligence of FPS Towers
The problem
ATC Europe, a leading global towerco, was considering a strategic investment in the French market, by participating in a competitive bidding process for FPS Towers and its portfolio of ~2400 mobile towers
ATC Europe engaged Analysys Mason to carry out commercial and technical due diligence of the target, drawing on our deep knowledge of the local telecoms market and our extensive experience in similar transactions
The solution
Analysys Mason supported the client during both the non-binding bid and the final stage of the process, by conducting interviews with FPS Towers' management and briefing the client on a recurring basis
As part of the study, we analysed the fundamentals of the French market, including mobile market trends, mobile operators' roll-out strategies, and the impact of RAN-share agreements
We developed a probabilistic approach to assess the tenancy ratio opportunity of the portfolio. This took account of all the major factors which affect the attractiveness of a mobile site, such as the presence of:

infrastructural competition, demand for network coverage and densification from each potential tenant, coverage obligations, the proximity to strategic infrastructure (e.g. roads) and the location of RAN-share areas

We also deployed a team to make site visits and conduct a technical review of a significant sample of sites
The result
Our team presented the findings from our assessment of the tenancy ratio opportunity and the business plan review to ATC Europe. The findings were then used to support discussions with FPS's management and negotiations with the selling shareholders
ATC Europe successfully acquired FPS Towers for EUR697 million in December 2016
Figure: Site map of FPS Towers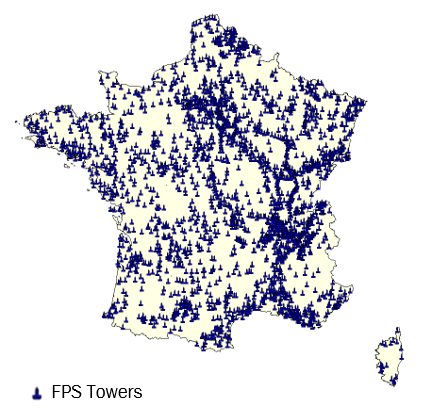 ATC Europe successfully acquired FPS Towers for EUR697 million in December 2016.
Key fact 1
We supported the client during both the non-binding bid and the final stage of the process, by conducting interviews with FPS Towers' management and briefing the client on a recurring basis.
Key fact 2
We analysed the fundamentals of the French market, including mobile market trends, mobile operators' roll-out strategies, and the impact of RAN-share agreements.
Key fact 3
We deployed a team to make site visits and conduct a technical review of a significant sample of sites.