SMBs' usage of productivity and collaboration tools
The problem
Our client, a global software company, wanted to increase its market share of its productivity and collaboration solution within small and medium-sized businesses (SMBs) in India
Analysys Mason was commissioned to analyse the SMB market in India, evaluate SMBs' perceptions of the client's solution compared with its competitors' solutions and provide recommendations to our client on how to increase its market share in India.
The solution
To address the client's requirement, we conducted four focus group discussions (FGD) and a survey of 275 SMBs.
The FGD participants were SMBs of different sizes and from six verticals. Our target respondents were business/technology decision-makers with maximum inputs in software purchase.
We also conducted a quantitative survey in 8 cities among 275 SMBs. The cities were selected cautiously so that they included metro cities as well as Tier-2 cities.
Figure: Key information sources that influence SMBs' investment in new technologies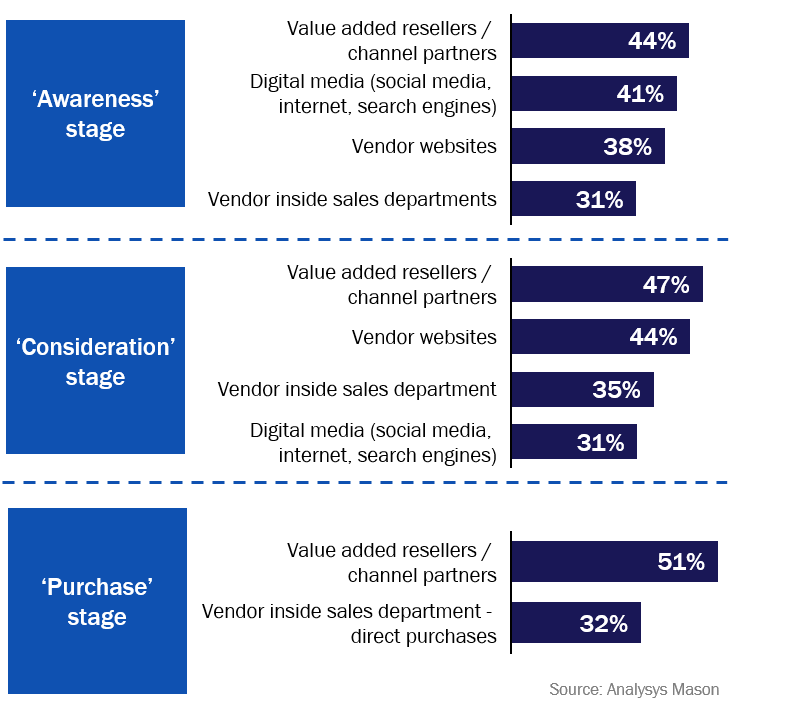 The result
The project provided several key findings and recommendations for the growth enhancement of the client's solution. Based on our recommendations, the client has already moved forward with its plan to jointly market to SMBs with the help of channel partners. It has also outlined a strategy to target SMBs in Tier-2 cities.