Developing cost models for next generation telecoms networks in Zambia
The problem
The Zambia Information and Communications Technology Authority (ZICTA) sought to undertake a wide-ranging cost study of telecoms services in Zambia. This study had several key objectives:
develop cost models for next-generation technologies, in order to determine the unit costs of providing voice and data services
derive a weighted average cost of capital for a telecoms business operating in Zambia
understand the retail costs of Zambian operators
recommend an appropriate regulatory regime covering voice, broadband and bundled services in the Information and Communication Technologies (ICT) sector in Zambia.
The solution
Analysys Mason undertook an initial exercise of benchmarking Zambia against a peer group of other African countries to better understand how it compared, both in terms of telecoms services and macro-economic development.
Analysys Mason then developed a suite of modules to consider the costs of both network and retail operations in Zambia. Mobile, fixed core, fixed access and broadcasting signal distribution (BSD) networks were all modelled. Retail costs were analysed separately. The analysis was undertaken in co-operation with industry stakeholders, which were invited to two workshops on the development of the modelling suite. A data-gathering exercise was also undertaken to ensure the cost modules were parameterised to appropriately reflect the costs of operating in Zambia.
Industry stakeholders were also invited to comment on the draft modules before they were finalised.
Figure: Structure of the telecoms sector in Zambia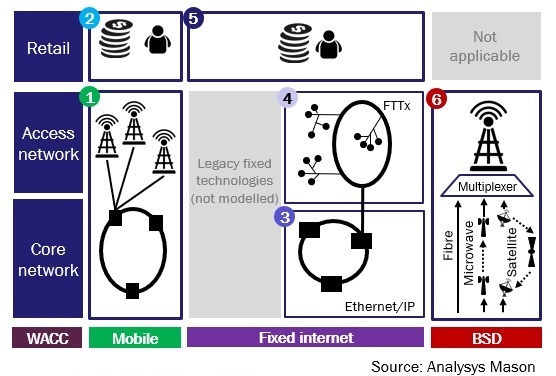 The result
The modules generated a wide range of cost results, which were discussed with ZICTA in multiple workshops. ZICTA's staff now have a deeper understanding of the underlying costs of mobile, fixed and broadcasting services.
Analysys Mason then worked with ZICTA to produce a set of recommended regulations that ZICTA could apply to the market going forward.
ZICTA's Feedback
"10/10. It was great working with Analysys Mason. We were impressed by their professionalism, understanding the client's requirements and delivering accordingly. The models developed by Analysys Mason were easily accepted by the ICT industry players. We certainly look forward to working with Analysys Mason again."
Zicta